Worship
Our worship is a mix of traditional, and blended worship music, videos, slideshows, and inspiring sermons for adults and children.
Sunday
Our Sunday morning worship lasts one hour starting at 10am followed by a fun hour of fellowship and adult forums on various topics such as the Haiti Mission trip or GreenFaith Earth stewardship. Communion is served the first Sunday of every month
---
Sunday School
Sunday School is offered every Sunday following the Children's sermon during the worship hour. We have Sunday School and Youth Christian Education teachers ready and able to provide a blessed spiritually-nurturing curriculum every Sunday morning during worship.

---
Sermons
Pastor Cindy preaches most Sundays reflecting upon God's word and the way of Jesus Christ in the world and in our personal lives. She often shares from her background in science and theology and love for Celtic Christianity.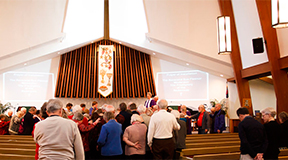 Jesus calls those who believe and trust in him to special work in the world, and blesses them with life eternal - a life which we can begin to enjoy right now.
Our special work in the world is the work of love and acceptance, striving with others for justice, freedom, and peace.
We are able to do the work to which Jesus calls us by the power of God's Holy Spirit.
The Holy Spirit uses these "tools" and others to empower and equip Christians: the Bible; preaching; the sacraments - which are Baptism and Holy Communion; and Christian fellowship.
Nothing can separate us from the love of God in Christ Jesus our Lord.