The community at large is always welcome to join our events. Invite friends and neighbors!
Choir Cantata "What Kind of Throne"
Christmas Eve Services
Sunday morning worship, Dec. 24 at 10 am
Sunday Evening Carols & Lessons, Dec. 24 at 7 pm
Advent Study
Wednesdays, Dec. 6, 13, 20 at 7 pm. Enter through the parking lot.
PW Women
THIS MONTH NO POTLUCK.  Just bring yourselves! Presbyterian Women gather on the 3rd Tuesday of the month at 10:30 am for Bible Study and a Potluck Salad Luncheon at noon.
Book Club
THIS MONTH MEETING THE SECOND THURSDAY. Book Club normally meets the third Thursday of the month at 3:30 pm in the library. 
Qi Gong with Josepha Eveleigh
Mondays at noon. Join us! Free class, donations welcome.
THURSDAYS Noon Hour of Prayer & Encouragement
Thursdays at noon in the Rose Room. Walk-ins welcome!
The Spirituality of Writing Class
A 5-week class that takes place Sunday after church around 11:15 am in the Adult Ed room.
Favorite Film Series
THIS MONTH ON THE LAST THURSDAY! Films are normally shown on the fourth Thursday of the month at 2 pm in the Rose Room. Enter through the back parking lot.
SACRED SPACE
First Sundays of the month - 6:30-7:30 pm in Bowen Hall (enter through the parking lot). Meditate, pray, and experience God through creative worship in community.
Widows Support Group
WIDOW SUPPORT GROUP  Meets fourth FRIDAYS of the month  11:30 am – 1:00 pm at Adel's Restaurant. Private room. Practical, confidential support for all widows.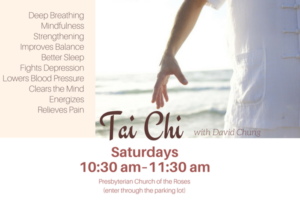 Tai Chi with David Chung
Enter through the parking lot. Suitable for all ages. Improve balance, sleep, pain, mental clarity, strength, depression, mindfulness and more!
Quilting for Hospice
Suspended until January! Quilting blankets for hospice & hospitals is on the second and fourth Tuesdays of the month from 10-2pm in the Sunday School Rooms. Bring a lunch.
Learn Ukulele
Sunday mornings at 9 am (enter through the parking lot). Ukulele's are provided.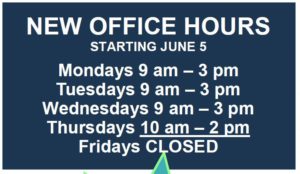 NEW OFFICE HOURS
Mondays, Tuesdays, Wednesdays open from 9am-3pm and Thursdays from 10am-2pm.
Blood Pressure Screenings
4th Sundays of the month, after the worship. Medication safety checks are also available. Services provided by Essence of the Rose Health Ministry.